Room Cast for Hospitality
Transform the in-room experience by giving your Guests the freedom to stream their preferred content to the big screen via Cast & AirPlay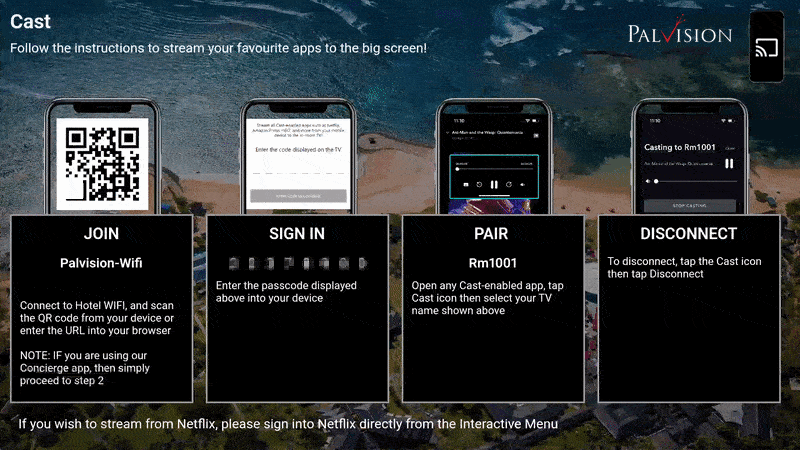 simple cast pairing process for guests
A simple QR Code scan establishes a secure connection between a Guest device and an In-Room TV, all the way till Check Out
​
Guests do not swap to a separate WIFI SSID, download apps or re-establish connections during their stay
effortless setup with limited infrastructure investment
The solution leverages Guest devices, their subscriptions Apps and hardware that you already have:
existing WIFI network

In-Room TVs
​
Bundled add-ons are limited to:
Chromecasts (or TVs with Cast Built-In)

RoomCast appliance (or a Virtual Machine) and possibly a single network switch
​
If your environments lacks requisite WIFI Access Points in all Rooms or if you prefer alternative means of connection, we have solutions for you :)
RoomCast supports Airplay implementations without modification for TVs that come bundled with Airplay, notably most Sony TV models
​
Using TVs or Chromecast without AirPlay support?
Install our AirPlay receiver app service, Guests can
Mirror their Apple device screens

Stream Apple Music

View their Photo Gallery / Documents

Stream Video Calls, Play Games

Mirror their browsers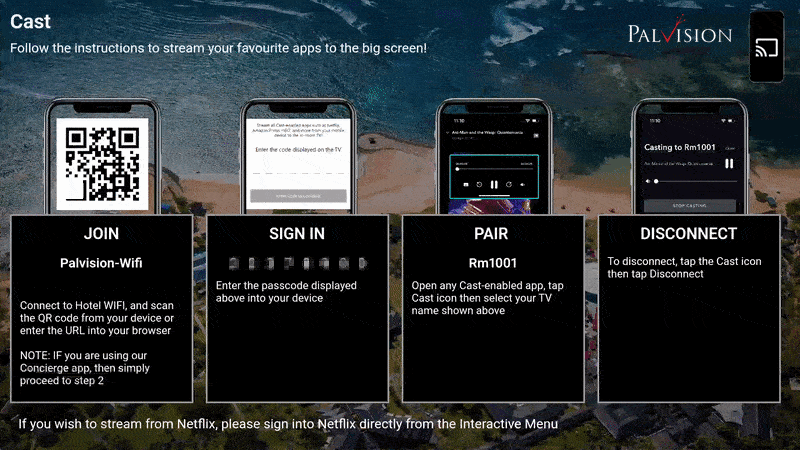 reduce the learning curve for Guests
Incorporate a Knowledge Base before, during and after connection on both the TV and on Device to reduce the learning curve and minimize any service calls to your IT department!
​
Detailed step-by-step instructions can be expressed in the form of high-resolution images, carousel sliders and even videos
​
create pan area network (pan) for selected environments
Operating a Shared WIFI Access Point environment? Or otherwise want to provide a failover Cast service alongside IPTV Channels on LAN Connection?
​
PalNano GTV can provide Guests with access to surf the web in shared AP environments and/or isolated RoomWIFI Connection for Cast ​
​
What's more? Our PalNano GTV media player operates the Google TV Operating System and offers the same User Experience as Smart TVs!
accessed directly from the concierge app
Provide a frictionless service.
Our concierge Web and Native Apps supports discovery and convenient pairing of the cast service.
​
Guests simply access the screen on the Concierge app, enter the On-Screen passcode and automatically pair their devices.
​