Elevate the Guest experience. By-pass the Front Desk completely.
100% fully Automated Digital Check-In Service from Pre Arrival to Check Out with added failover mechanisms in place to encourage use and minimize disruptions
Allow Guests to pre check in before they arrive to reduce time spent checking in on-premise
​
Enable Guests to update particulars, edit arrival times and register companions
Collect payments and pre-Authorisations
​
Or adjust flows and conduct scan travel documents and Face Selfies during the pre check in phase as well!
provide a wealth of information before arrival
The Pre Check-In process is designed to automate processes and provide Guests with useful information prior to arrival.
Configure the Pre Check-In landing screen to include:
* Information Carousels
* Travel Document submission & optional Face verification
* Hotel Information, Facilities and Contacts list
* Nearby Places and AI Trip Planner to assist with External & In-House Activity Planning
* Live Chat and/or Virtual Assistant access
Takes 3-5 minutes to complete. Edit Particulars. Pre-authorisation. Review Terms & Conditions. Digital Signature. Check-in and Mobile or Physical key generation follows. Room Assignment or Queue management is built-in as well.
​
Guest registration cards for all Guests are auto-populated and generated as well, eliminating paper forms.
​
To comply with local regulations, the solution automatically determines if a Guest is on-premise via smart tools
​
The solution works in conjunction with your PMS to determine if a Guest has Pre Checked-In earlier. If so the system intelligently filters and only presents the correct Screens
safeguard the payment process
Implement preliminary steps to weed out invalid cards and provide an overall security apparatus before payment transactions even take place!
Our complimentary tools include:
* Eligible Card Brand detection
* Debit Card detection
* Industry standard Card validation & our own secondary security algorithm
* IP Address filtering
* Configurable Blacklist options
room selection with indoor floorplans and preferences
Guest Profiles with configurable permissions can select their own Rooms rather than automated assignment. Floor by floor navigation and selection is made convenient
Moreover, this service does not engage third party services nor are there any third party fees to consider!
You can also choose to enable redirection to Room Selection based on Room Peferences. Here, Guests proceed with selecting their preferences such as High Floor, Near Elevator and more. After preference selection, Guests are presented with a configurable list of Room options for their perusal and acceptance
The service can be configurable to be paid or complimentary to Guests as well
complimentary built-in indoor map system
Simple and Effortless Room mapping.
Simply download our Wayfinder pack, drop a floor plan into the CMS, use mouse controls to Point-and-Click at any point to represent a Room and its coordinates populate automatically, making this process painless .... and free
Moreover, Room Mapping is only ever performed once, and can be applied to any Guest device of any screen size, resolution and orientation! You do not need to re-plot based on different devices!
save staff time with automated verification services
Are you having Guests submit screenshots of their passport / ID and Selfie for manual staff verification to save cost or otherwise reduce points of failure?
Our service provides optional mobile scanning and face matching but which does more than just OCR extraction and verification.
As a complimentary feature, our service performs all of the following:
* Image Quality Detection (Blur / Glare / Shake)
* Cropped Image Detection
* Profile Match Detection
Without the above, a Traveller can easily submit poor quality, cropped or even doctored images that Staff performing back-of-the-office manual verification will have difficulties in assessing.
Instead, our service solves such problems and ensures low-quality submissions do not result in Room Assignment
Moreover, we have Failover mechanisms to solve issues relating to Traveller device hardware issues (front and/or back camera issues)
automated mobile document scanning
Our ScanDot application for Guest use is incorporated within our Mobile Check In service to automatically extract relevant travel document data, thereby eliminating the need to visit the Front Desk!
​
With its in-built OCR, ScanDot captures, authenticates and populates information from government-issued ID Cards and MRZ-encoded passports to your PMS in seconds!
​
Our Mobile Scanner also performs ID Face capture from all travel documents, with real-time perspective correction.
​
Operates on all platforms including Kiosk (iPad/ iMac/ Surface Pro), Native Mobile App (iOS/ Android), and Web Apps.
​
ID scan failover processes to complete the last mile process or to "save a check in"
Concerned about Guests refusing to scan their travel documents? Or maybe there is an issue with their device camera? We have a solution for that to prevent aborted Check-ins due to ID Scan failure!
Our Scandot Application is now also packaged for Staff Use and to address failover, it works completely OFFLINE!
If Guests run into trouble, Staff can very easily use our Complimentary Staff-Use app to scan Travel Documents and then even scan Guests' device Screens to extract Booking IDs that appear. Our AI not only operates completely On Device but is intelligent enough extract Booking IDs even if there is some other text included in the frame of capture!
Travel Document details can then be shipped off to the PMS in real-time while the Guest can now bypass selected processes and continue to check-in completely on their own device without aborting!
​
Our Offline Scanner for Staff can also be used to replace hardware scanners or complement your existing Group Branded-Mobile Check In service to complete last mile processes. Find out more about our standalone 2-second Offline Mobile Scanner for Staff use
frictionless face verification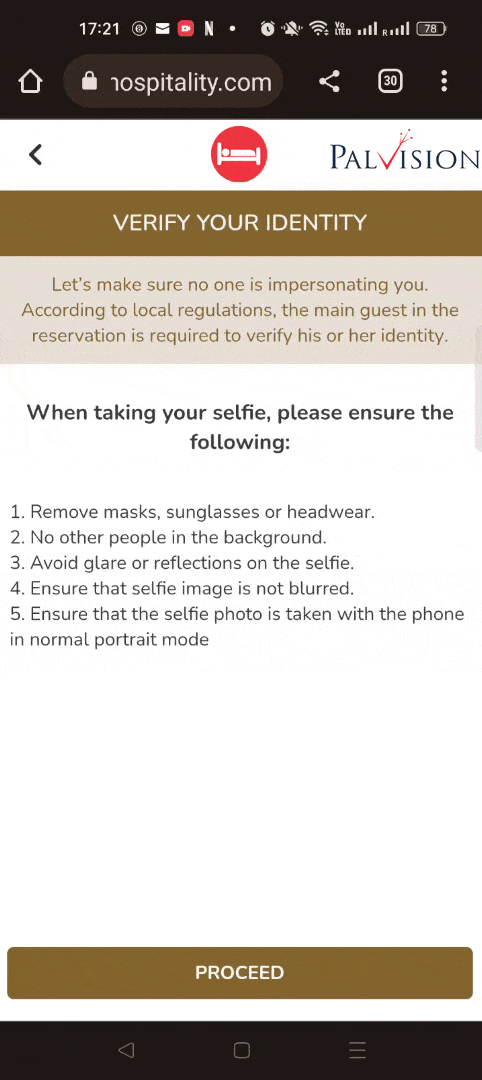 Say goodbye to manual verification exercises!
Streamline the check-in process with our AI-powered Face Verification feature designed to accurately verify identities from low-resolution passport scans or IDs against selfies
​
Just like our Mobile Document Scanner, our Face Verification feature is complimentary, part of Mobile Check In and supports all platforms, including Kiosk (iPad/iMac/Surface Pro), Native Mobile App (iOS/Android), and Web Apps.
​
Concerned about Guests refusing to take a selfie or maybe there is an issue with their device camera? We have a solution for that to prevent aborted Check-ins due to such issues!
simplify room access with mobile keys
Make guest access hassle-free with our Mobile Key service, available on native mobile devices (Android / IOS).
Guests can generate Digital Keys during their stay period, eliminating the need for traditional physical keys altogether.
With fully customizable screens, you can provide instructions, GIF files, videos, and more to enhance the guest experience.
Depending on the door lock brands, Main Guests can also Share Keys with their registered Companions!
​
Choose to allow Guests to use Mobile Keys exclusively or pick up physical keys for their companions in conjunction with our Digital KeyMakr service, described above
automated physical key generation
Dont have Bluetooth Door Locks? Or even with Mobile Keys in place, registered Companions require physical keys or the Main Guest prefers a physical key as well?No Problem!
Our Digital KeyMakr is the world's first lightweight device that enables Contactless Check-In by generating Guest Room Keycards while leveraging your Guests' very own mobile devices as screens!
​
Cost-effective and occupying a very small footprint, KeyMakr enables you to implement a fully unmanned and contactless Check-In experience directly from Guest mobile devices, via native mobile apps or otherwise app-less!
​
Moreover, our service is also designed to prevent Guest complaints who claim they were misled into using the service and yet find themselves re-routed to the Front Desk to pick up Room keys anyway
​
There are also no Kiosk "ATMs", no furniture, no extra tables required!
autonomy for accompanying guests
Standard processes involve the Main Guest registering accompanying Guests on their behalf.
​
Now all Companions can scan their respective travel documents and register independently!
​
Main Guests simply determine balance count remaining, input brief details and that's it! Companions can do the rest!
streamline the checkout process
Make checking-out a breeze for your guests with our paperless and cashless solution
​
Our Digital Check Out feature is incorporated into all platforms – tandalone or part of our Mobile Check In service, Mobile & Web Digital Concierge, and even Smart TVs.
​
Guests retrieve check out info, including outstandings, receive a payment link, and once done the solution automatically generates eBills for delivery.
​
Our system is customizable and includes a variety of dialogs, including early check-out information, cashless transactions, personal belongings handling, disclaimers, thank-you notes, and more.
Make checking-out even more convenient!
​
Guests who missed checking out from the Smart TV or on their mobile now have the opportunity to tap their Room Key against a Lobby tablet, bring up their profile automatically, and check out with ease!
​
Our JusTapz self-standing tablet occupies a tiny footprint, supports LAN or WIFI connection, and NFC function located at the front of the device makes it easy to implement a tap-to-read function
​